Christopher Schmitt
WaSP Member, Adobe Task Force Co-Lead
Education Task Force Co-Lead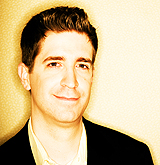 Christopher Schmitt is the founder of Heat Vision, a small new media publishing and design firm. An award-winning Web designer and speaker who has been working with the Web since 1993, Christopher interned for both David Siegel and Lynda Weinman in the mid-90s while he was an undergraduate at Florida State University working on a fine arts degree with an emphasis on graphic design.
Afterward, he earned a master's in communication for Interactive and New Communication Technologies while obtaining a graduate certificate in project management from FSU's College of Communication.
In 2000, he led a team to victory in the Cool Site in a Day competition, where he and five other talented developers built a fully functional, well-designed Web site for a nonprofit organization in eight hours.
Author of numerous Web design and digital imaging books, including CSS Cookbook and Adapting to Web Standards: CSS and Ajax for Big Sites, Christopher has also written for New Architect Magazine, A List Apart, Digital Web, and Web Reference. At conferences such as Web Visions and SXSW, Christopher has given talks demonstrating the use and benefits of practical standards-based designs. He is the list moderator for Babble, a mailing list community devoted to advanced Web design and development topics.
As co-founder of Environments for Humans, he produces online and face-to-face conferences like AIGA In Control and CSS Summit.
He is 6'7″ and does not play professional basketball but wouldn't mind a good game of chess.
The Web Standards Project is a grassroots coalition fighting for standards which ensure simple, affordable access to web technologies for all.