D.L. Byron
WaSP Member, Microsoft Task Force Member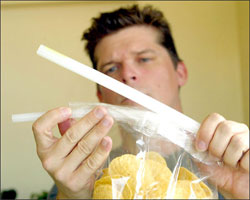 D.L. Byron is the Principal of Textura Design, Inc. He first stole Zeldman's code in 1997, then lived dotcoms, dotcom crashes, Clip-n-Seal, and now he is evangelizing Standards-based design, writing a New Riders book about blogging, and speaking at conferences.
With more than eleven years of experience, Byron is an expert blogger, web designer and developer. An entrepreneur and an inventor, he also consults with clients, co-founded the Blog Business Summit, and publishes a network of successful blogs, including one of the first business blogs.
Byron lives in Seattle with his wife Pam, two children, and a pug named Cap'n. When he is not blogging, he races his bicycle with the Union Bay Cycling Club.
Books
Publish & Prosper: Blogging business
A New Riders book to be published in the Spring of 2006.
The Web Standards Project is a grassroots coalition fighting for standards which ensure simple, affordable access to web technologies for all.