Drew McLellan
WaSP Co-Lead, Dreamweaver Task Force Member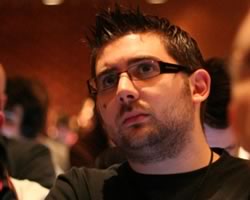 Drew McLellan is a web developer and author from just outside London, UK. With a broad background in all aspects of web design and development, Drew specialises in web applications. He spends his days working as a web developer for Yahoo! Europe, and his nights writing technical books and articles. He maintains personal web sites on the topics surrounding his work at allinthehead.com and, with a little help from his friends, at 24ways.org.
At the Web Standards Project, Drew has held the title of Strategy Lead as well as helping out with Public Relations and various other duties. He is the author of Dreamweaver MX Web Development for New Riders Publishing, and has had technical articles published by O'Reilly Media's XML.com, alistapart.com and Macromedia.com. When he grows up, he'd like to be a train driver.
(Photo credit: Andy Budd)
The Web Standards Project is a grassroots coalition fighting for standards which ensure simple, affordable access to web technologies for all.