Jeff Brown
Education Task Force Member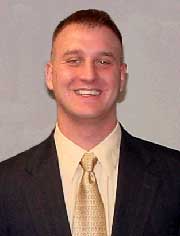 Jeff Brown is an educator living in Frederick, MD. He teaches Web site development and other advanced Web related classes at Damascus High School in Damascus, MD where he is the coordinator of the Information Resource Design strand of their Academy of Information Technology. In his county he works diligently at promoting standards and accessibility to the other stakeholders. His classes focus on visually sound, standards based, accessible Web design/development. He is attempting to build a strong community of Web professionals, students, and educators who together can support a proper Web education. His goal is to excellently prepare his students for jobs in the field of Web design.
With an undergraduate degree in CS he enjoys the visual pay off of Web development. Jeff founded Jeff Brown Designs in 2003 and started freelancing by moonlight. He loves everything Web and is always working on new and fun projects. You can find him blogging on Web-related topics at his freelance site and his teaching site.
He is currently pursuing a Masters in Educational Leadership from Hood College.
The Web Standards Project is a grassroots coalition fighting for standards which ensure simple, affordable access to web technologies for all.