Kimberly Blessing
WaSP Member, Site Implementation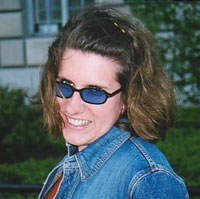 Kimberly Blessing is a web developer, standards evangelist, and teacher. She has been a member of WaSP since 2004, and served as Co-Lead from 2006 to 2008.
Kimberly has worked at numerous large companies as a standards advocate and has run her own consultancy. She previously served as a software architect and senior technical manager at Comcast, directed the Web Development Platform Team at PayPal, where she was responsible for driving the creation and adoption of standards, and she held multiple leadership roles at AOL, where she worked on the standards-compliant redesign of AOL.COM in 2004 and the publishing system that allowed AOL to "go free" in 2005.
A graduate of Bryn Mawr College (B.A., Computer Science) and The George Washington University (M.Sc., Computer Science), Kimberly is also an advocate for increasing the number of women in computing and technology fields. She tries to maintain a blog, Obi-Wan Kimberly Is Your Only Hope.
The Web Standards Project is a grassroots coalition fighting for standards which ensure simple, affordable access to web technologies for all.