Ian Lloyd
WaSP Member Emeritus, Dreamweaver Task Force Member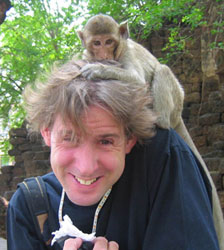 Ian Lloyd runs Accessify.com, a site dedicated to promoting web accessibility and providing tools for web developers. His personal site 'Blog Standard Stuff', ironically, has nothing to do with standards for blogs (it's a play on words), although there is an occassional standards-related gem to be found there.
Ian works full-time for Nationwide Building Society where he tries his hardest to influence standards-based design ("to varying degrees!"). He enjoys writing about his trips abroad and recently took a 'year out' from work and all things web but then ended up writing more in his year off than he ever has. He finds most of his time being taken up by a demanding old lady (relax, it's only his old Volkswagen Kombi van).
Ian is part of the WaSP Accessibility Task Force (or ATF for short) and is a occasional contributor to the Buzz blog.
Writing Credits
The Web Standards Project is a grassroots coalition fighting for standards which ensure simple, affordable access to web technologies for all.