Robert Hoekman, Jr
Education Task Force Member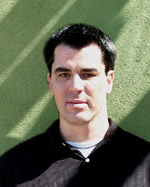 Robert Hoekman, Jr., is the founder of Miskeeto, a product development and Web design consultancy focused on socially-conscious projects that improve the world.
He's a passionate and outspoken interaction designer, writer, and user-experience evangelist who has written dozens of articles and has worked with Seth Godin (Squidoo), Adobe, Automattic, United Airlines, DoTheRightThing.com, Go Daddy Software, and countless others to create superior user experiences for a wide range of audiences. He also gives in-house training sessions and has spoken at many industry events, including Adobe MAX, An Event Apart, SxSW, Future of Web Design, and others.
Robert is the author of the Amazon bestseller Designing the Obvious (New Riders), which focuses on seven guiding principles of great web-based software and how to leverage them in any real-world project, and Designing the Moment (New Riders), a collection of stories from real projects that show how to put Web design principles into action. Learn more about Robert through his blog at rhjr.net.
The Web Standards Project is a grassroots coalition fighting for standards which ensure simple, affordable access to web technologies for all.